Hockey Heritage North
(Museum)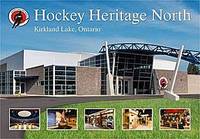 This 18,000 square foot interactive facility tells the story of hockey in northeastern Ontario and how this region produced some of the best players in the world.
(Museum)
Hockey Heritage North is an 18,000 square foot multi-faceted Conference and Exhibition Centre.

We celebrate the achievements and contributions made by the communities of North-eastern Ontario to the culture and sport of hockey, Canada's favourite past time.

This fascinating history will be told to you by storyboards, interactive exhibits and our award winning movie narrated by Brian McFarland. Visit HHN and learn first hand about the players that made the NHL great. Test your hockey skills in the Fun Zone, or pick a souvenir from the HHN store. We look forward to seeing you!!