The Old Kings Courthouse Museum
(Museum)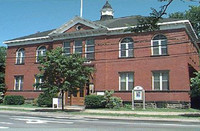 Visitors to the Museum will find exhibits which relate the cultural and natural history of the County.
(Museum)
On the basement level of the museum is the Kings Historical Society Community and Family History Committee Archives. An important site for researchers, here you'll find family genealogies, Kings County cemetery records and New England Planter genealogical material.

On the first floor of the museum are two permanent exhibits. The New England Planters exhibit is a Parks Canada Commemorative exhibit exploring the history and legacy of the New England Planters. A half hour film produced by Parks Canada recounts the dramatic story of the Planters, available in English or en Français. The Planters Exhibit also includes games for children to illustrate various aspects of Planter life. The Victorian Parlour is an ornate room depicting what fashionable parlours looks like at the turn-of-the-century. A mannequin in the corner displays period textiles.

The Museum features a variety of new exhibits each year including displays from the Museum's collection, private collections from Kings County residents, and the occasional travelling exhibit from outside of Kings County. These exhibits change every three or four months, and are usually located on the first floor, with the occasional small temporary exhibit on the basement level.

On the second floor of the museum are four more permanent exhibits. For bird and nature lovers there are cases of stuffed birds native to the area. Next to the bird display is a collection of rocks, minerals, and fossils from the Annapolis Valley. Opposite the bird and rock collections is the Dyke Exhibit. The dykes in Kings County were built by the Acadians. The exhibit depicts various aspects of the history of the dykes of the County. Above the stairs hangs a model of an Atlantic sturgeon, typical of those caught by fishermen in the region. The sturgeon model was created by local artist Lindee Campbell. Also located on this floor is a New England Planter kitchen, which depicts what an actual Planter kitchen would look like, featuring artifacts on loan from Parks Canada. Finally the Courtroom; refurbished by the King's Historical Society in 1980, this area is the focal point of the Museum and features hand grained wood work by local craftsman Brad Forsythe. The wood is stained to simulate oak and has seven drawings etched into panels around the room.

There is always something new and exciting going on at the Museum, which makes every visit an interesting and worthwhile experience.