Kentville Travel Guide
Kentville is a town in Kings County, Nova Scotia. As of 2006, the town of Kentville had a population of 5816 people. Located only 103kms from Halifax, Kentville is centrally located in the beautiful Annapolis Valley along the scenic Evangeline Trail. As the largest town in the Valley, it serves as the professional center for legal, financial, and medical services. A large array of businesses, unique shops and eateries offer quality of life to its ever growing population.
The Annapolis Valley is considered one of North America's richest agricultural districts. The terrain of this area is rugged and irregular, but more hilly than mountainous. The lowlands are suitable for farmers and are found around the shores of the Bay of Fundy and in the Annapolis Valley. Residents enjoy more sunny days per year than almost any other community in Nova Scotia. As the province is a peninsula and is nearly surrounded by the ocean, the climate is more temperate, cooler summers and winters less severe than in other part of Eastern Canada. The Gulf Stream, a warm ocean current offshore, adds to the warmer winters.
The Old Kings Courthouse Museum , Kentville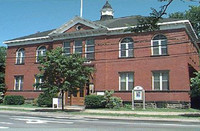 Visitors to the Museum will find exhibits which relate the cultural and natural history of the County.
(Museum)