Pelly Crossing Travel Guide
Pelly Crossing is a small Yukon town, 282 kilometres northwest of Whitehorse and 254 km southeast of Dawson City. Started as a good crossing-point on the river, it became a construction camp for workers building the Klondike highway. With a population of about 300, it is the home of the Selkirk First Nation, and home to the Northern Tutchone culture. The first white settlers came in the early 1900's. There is now a proper bridge across the river at this point.
Big Jonathan House, Pelly Crossing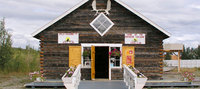 The Selkirk First Nation cultural centre at Pelly Crossing is housed in a replica of Fort Selkirk's Big Jonathan...
(Museum)