Carmacks Travel Guide
Carmacks is a picturesque community located at the confluence of the Nordenskiold and Yukon Rivers in the Yukon, Canada. Located approximately 2 hours north of Whitehorse by highway, it is know as the "Hub of the Yukon".
Stop and spend an enjoyable day strolling down the scenic boardwalk of Carmacks, which follows the path of the Yukon River. Signs along the path tell some of the local history of Carmacks. Visit the Information Center located at the east end of the boardwalk (in the summer months), or stop by the Tage Cho Judan Interpretive Center which allows a tiny glimpse into the local cultural history.
Carmacks offers a variety of trails that most rock hounds would enjoy as well as a vast area for exploring either by foot, bike, boat, ATV or in the winter months, by snow machine. Carmacks is a community which offers its visitors full service amenities as well as local shopping.
Tage Cho Hudan Interpretive Centre, Carmacks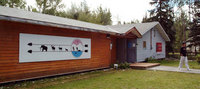 The Tage Cho Hudan Interpretive Centre showcases the past and present culture of the Northern Tutchone with many fascinating exhibits.
(Museum)