Burwash Landing Travel Guide
Burwash Landing is a small community, at historical mile 1093 on the Alaska Highway, in the Yukon, Canada along the southern shore of Kluane Lake. It was settled in 1904 by the Jacquot Brothers. Today, it is Home to approximately 80 people, and the administrative centre of the Kluane First Nation. In addition to the Alaska Highway, the community is served by the Burwash Airport.
The Kluane First Nation are Southern Tutchone and have been in the area and surrounding lands for over 100 years. The Burwash region has a history as a trading post, and natives to this day have traplines and fishing areas that are bountiful, supplying food and a way of life.
The community is nestled between Kluane National Park in the St. Elias Mountains and the shores of beautiful Kluane Lake. Burwash Landing is located at Historic Mile 1093 on the north end of Kluane Lake, the largest lake in the Yukon. It is Home of the Kluane Museum of Natural History which can boast one of the best selection of wild animals exhibited in the Yukon. Burwash Landing also has the world's largest gold pan which measures 21 feet in diameter and is 27 feet high.
Kluane Museum of Natural History , Burwash Landing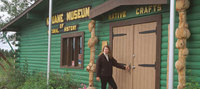 World-class wildlife displays along with displays of native dress and artifacts. Admission includes wildlife video theatre.
(Museum)