Port Hill Travel Guide
In the mid 19th century, the towns of the Tyne Valley were bustling with the sounds of blacksmiths, tanneries, tailors, carriage shops, plasterers, shoemakers, grist mills, and saw mills. While these pursuits have given way to more modern ways of life, the lovely rural feel of PEI is preserved for visitors today in places like Port Hill (106 km northwest of Charlottetown). Port Hill is divided from its sister village, Bideford, by the Trout River. Both are namesakes from English villages in Devonshire.
The shipbuilding heritage of PEI, once the backbone of the economy, is preserved in nearby Green Park. Today the provincial park contains a shipbuilding museum, historic Yeo House, playground equipment, frisbee golf, nature trails, river front tenting sites and a river side beach. A pond, created by a dam on the river, contains speckled trout and is popular with anglers. Smelt run the river in spring and can be netted from shore. A nice mixture of forest and farmland, as well as a peat bog, create a pleasing ambience.
Green Park Shipbuilding Museum, Port Hill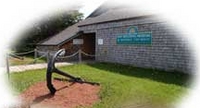 Step back in time and re-live the story of the Prince Edward Island shipbuilding industry in its glory days.
(Museum)