Montague Travel Guide
Montague's location in the heart of Kings County on Prince Edward Island, Canada, makes it a regional centre of business and commerce.
"Montague the Beautiful", as the name suggests, is one of the prettiest towns on the Island. Graced with a tranquil river, lovely tree-lined streets and stately homes, it is a wonderful environment for residents and visitors alike.
The town itself is located along the Montague River. It lies approximately six miles upstream from Cardigan Bay, allowing for easy access by water to the Northumberland Strait and the Atlantic Ocean. The river bisects the town from east to west, providing excellent small port access for transport, fishing and recreation, as well as enhancing the town's scenic beauty.
Kings County is the easternmost county of Prince Edward Island, and Montague lies considerably south of the main body of the Province. Its geographic position - in close proximity to the provincial capital, Charlottetown, and various important centres in Kings County - has contributed strongly to its growth and development.
Garden of the Gulf Museum, Montague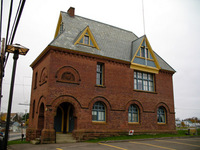 The Garden of the Gulf Museum, housed in a historic sandstone building, officially opened on May 16, 1958.
(Museum)