Miscouche Travel Guide
Miscouche derives its name from the Mi\'kmaq Indian term meaning \"little grassy island\". It is in Evangeline, the largest francophone region of the province and home to numerous Acadian settlements. Miscouche hosted the Second Acadian National Convention in 1884. It was attended by over 5000 delegates and entrenched covenants protecting the Acadian identity, including its own flag.
The Acadian Museum of Prince Edward Island was established here in 1964 and expanded in 1991. One of the oldest wooden churches in PEI, St. John the Baptist Roman Catholic, constructed in the High Victorian Gothic Revival style, is located in Miscouche as well. The area was settled by Acadians in the early 1700's and Scots in the 1800's.
The Municipality of Miscouche was incorporated in 1957, has a population of about 800, and is situated 67 km west of Charlottetown. The residential community is made up of retirees or those working in nearby Summerside.
Acadian Museum of Prince Edward Island, Miscouche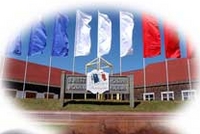 The Museum displays salute the history of P.E.I.'s Acadian people from 1720 to the Present. On site are...
(Museum)