Rainy River Travel Guide
Rainy River is an attractive rural community of about 1,000 people located along the Minnesota/Ontario border. It is also a major border crossing into Sunset Country from the United States. Rainy River is a 3 hour drive southeast of Winnipeg and just 22 kilometers (14 miles) south of Lake of the Woods. The Rainy River area is home to 130 species of birds along with large populations of moose, black bear and deer. Hannam Park, located on the shores of Rainy River, is a perfect family vacation spot with its sandy beach, volleyball court, playground and wading pool.
There's plenty of things to do and see in Rainy River. Go on a self guided tour of the area. The tour includes visiting Elk and Buffalo farms, the Railroad 4008 Heritage Museum, an historic Hudson's Bay site, Hannam Park and more. A must-see is the Kay-Nah-Chi-Wah-Nung Historical Centre (Manitou Mounds) at nearby Rainy River First Nation - the location of a national historic site.
Railroad Heritage Museum & 4008 Steam Engine, Rainy River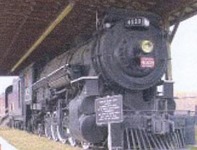 This museum offers a look at railroad history contained in an actual rail car.
(Museum)