Niagara-on-the-Lake Travel Guide
Only 1 1/2 hours from Toronto, Niagara-on-the-Lake is one of the best-preserved and prettiest 19th-century villages in North America. Handsome clapboard and brick period houses border the tree-lined streets. It's the setting for one of Canada's most famous events, the Shaw Festival. The town is the jewel of the Ontario wine region.
Beautiful Niagara-on-the-Lake in Ontario, Canada, is rich in history and home to the ever popular Shaw Festival theatre from April through November. Tours and tastings are offered at many estate wineries so all can appreciate the area's deserved reputation for fine wines. Golf, tennis, and miles of walking and biking trails await the active visitor.
Just a short drive along an incredibly scenic road along the Niagara River is one of the natural wonders of the world, the extraordinary Niagara Falls. Other area attractions include Casino Niagara, the Butterfly Conservatory, and historic Fort George.
Niagara Apothecary, Niagara-on-the-Lake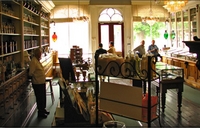 The Niagara Apothecary is an authentic museum restoration of a 1869 pharmacy as part of a practice that operated in Niagara-on-the-Lake...
(Museum)
Fort George , Niagara-on-the-Lake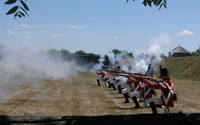 During the War of 1812, Fort George served as the headquarters for the British Army.
(Tourist Attractions)