Iroquois Falls Travel Guide
The Town of Iroquois Falls is a vibrant community, located just a few miles off of Highway 11, the main Trans-Canada route. It's ideally located almost midway between the neighboring communities of Timmins and Cochrane. If you want to slow down, relax and just enjoy the great northern wilderness - this is the place.
This is a town built on the shores of the Abitibi River, by the Abitibi paper company just over 90 years ago. It was home to the largest pulp and paper operation in North America. Tours of the plant are still popular.
There's a lot to see and do in "the Falls". Families and nature buffs can enjoy fantastic nature trails that wander through the heart of the boreal forest. This is how it was when the early explorers and fur traders came through here in search of the riches of the new world. Boaters, campers and ATV adventurers have all made Iroquois Falls a favourite destination.
Summer is a time of fun and celebration in this town. Fishing fans can try their luck in the Moby Pike fishing derby, which will be held in June. There is also the ever popular Porquis Blues Festival, held in July. In August, the whole community celebrates Paperfest.
Pioneer Museum, Iroquois Falls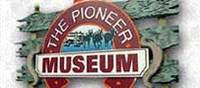 Experience days gone by with the Iroquois Falls Pioneer Museum.
(Museum)