Cambridge Travel Guide
Cambridge is a wonderful city of 120,00 people in one of the most prosperous regions of Canada, southeastern Ontario. The city combines natural beauty with superb infrastructure and stately 19th century architecture. It is situated at the confluence of the Speed and Grand Rivers. There are over 50 km of trails to enjoy. Used by pedestrians and cyclists, the trails follow much of the rivers' course. There are carpets of wildflowers and rich forests of maple, elm and cedar. The Silver Heights Trail is particularly impressive in spring, with thousands of blooming trilliums. There are 80 parks spread through 365 hectares of parkland in Cambridge.
Attractions include a drive-through wildlife park, butterfly gardens, 7 golf courses, and an annual Dragon Boat festival. The Cambridge Farmers Market has been running since 1830 and continues to offer fresh fruits, cheese, vegetables, baked goods and more from the surrounding farms. The market is ranked in the top ten markets in Canada by Best Health Magazine. Pick up some organic lamb and watch apple cider being made. If you like bagpipes and all things Scottish, make sure to take in the Cambridge Highland Games. For music lovers there are two long running festivals, the Mill Race and Rock the Mill festivals. At Christmas time, you won't want to miss 'Unsilent night' with its spectacular light show and other celebrations.
Those with an interest in architecture will want to visit the City Hall, which is built of granite, white limestone and locally quarried blue granite. The City of Cambridge was awarded the 2011 Laureate Medal from Computerworld for innovative technology. There are three airports within 1 hour. Cambridge is only 80 km from the city of Toronto and not far from Buffalo, New York.
Nancy Yule, Cambridge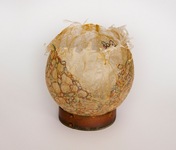 fibre artistry
(Arts & Culture)