Cambridge Bay Travel Guide
Cambridge Bay is located on Victoria Island in the Kitikmeot Region of Nunavut in Canada.
Serving as Province's administrative centre for the region, as well as the maintenance base for the area DEW Line sites, Cambridge Bay offers most modern amenities. And, with same-day 737 jet service out of Edmonton and Yellowknife, travel can easily be made to our community.
All of this is Cambridge Bay: teenagers playing video games at the local arcade, Inuit elders speaking Inuinnaqtun as they pick up their mail at the post office, headlights of hunters several miles out on the sea ice returning by snowmobile with their catch to the eerie, hazy, welcoming glow of a town shrouded in ice fog during a -35c winter night (-50c or more with the wind-chill).
During the 24 hour summer daylight, May through July, you can drive your ATV five minutes outside of town along the Mount Pelly road where you'll come across musk ox grazing lazily, or you can bring your fishing rod along and catch a char dinner by the banks of Freshwater Creek - Cambridge has more to offer than just hockey and curling in the winter and swimming in the summer.
Arctic Coast Regional Visitor Centre, Cambridge Bay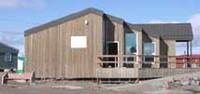 The Arctic Coast Visitor Centre invites you to VISIT US and immerse yourself in Inuit culture.
(Business & Services Organizations, Museum, Tourism Organizations)