Baker Lake Travel Guide
Located at the mouth of the Thelon River Lake, Baker Lake is Canada's only inland Inuit community. Traditionally a gathering place for many different groups of Inuit, the community is now home to many Inuit artists and carvers.
Local carvers use a soft black stone that produces elegant rounded images. Prints and artwork by local artists are renowned throughout the world. Cultural tours are available for visitors and include a week-long tour of Inuit art collections with Inuit guides.
Baker Lake is the end point for lower Thelon River treks. The Thelon River system, a good canoeing river, extends some 900 kilometers from either Sifton Lake or Lynx Lake. The Thelon meanders through the Barren lands and features one stretch of whitewater. Baker Lake is also the finishing line for canoeists on the Kazan River, which offers plenty of rapids.
Visitors can enjoy sport fishing, hiking in the Barrenlands and wildlife watching while in Baker Lake. Baker Lake Park offers boating and canoeing in summer months, as well as camping facilities and shelters.
Attractions in Baker Lake include the Akumalik Visitors' Centre where a re-created Hudson's Bay trading post building can be found. An archaeological site of the Thule culture with stone tent rings and meat caches near Baker Lake is a must visit for everyone.
Inuit Heritage Centre, Baker Lake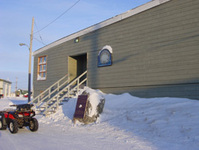 The Inuit Heritage Centre is a living center and plays an educational role within and outside the community.
(Museum)