Pugwash Travel Guide
The village of Pugwash is located on the north shore of Nova Scotia on the Northumberland Strait at the mouth of the Pugwash River. It is an area of beaches, shallow water and reportedly the warmest water for swimming north of the Carolinas.
Visitors to Pugwash are greeted by signs saying "World Famous for Peace" a reference to conferences held there during the Cold War to promote nuclear disarmament. A Nobel Prize was awarded to the conferences in 1995.
Pugwash sits atop a salt deposit over 450 meters thick. Pewter craftworks are an important industry.
Pugwash is renowned for its Scottish roots. All street signs are in English and Gaelic. Summer is festival time in Pugwash, including the perennial favourite, the Gathering of Clans, a Scottish style party with piping, drumming, highland dancing and highland games, as well as a fireworks display. The Harbour Festival includes a variety of water-based activities, including Double Dory races, canoe jousting and sailing; land based activities include sand sculptures, farmer's market and helicopter rides.
There are a variety of choices of accommodation in the area including B&Bs, cottage rentals, hotels and motels, RV facilities and a luxury resort with golf course and spa.
Pugwash Farmers Market, Pugwash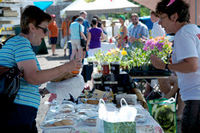 May Long Weekend – Labour Day: 9am – 1pm Saturday
(Events/Festivals, Markets/Farms)