Digby Travel Guide
Digby is a town in western Nova Scotia which lies on the Annapolis Basin of the Bay of Fundy. The town is not only famous for its scallop fishing fleet. Digby is central to many activities, including historic sites, some of the best Whale Watching in North America, lovely parks, hiking trails, and its own local championship golf course.
Digby's economy is still based largely on the fishing and tourism industries. The annual Scallop Days Festival brings the two industries together to showcase the town's history and heritage to the tourists. The festival offers a variety of themed activities for all ages, including scallop shucking contests, a parade, and an exhibition of local artists. Another attraction for the tourism industry is the annual Wharf Rat Rally which attracts mortorcycle enthusiasts from afar to enjoy a weekend of events. The area is also widely known for the enormous Bay of Fundy tides that sweep the coastline boasting some of the highest tides in the world.
Digby is located near Rt. 101, a major highway and is close to Digby Municipal Airport, and the only year round ferry service to Nova Scotia.
The Admiral Digby Museum, Digby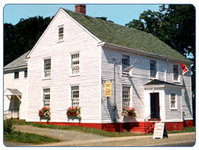 The museum features period rooms containing artifacts, and archives that relate to the interesting Maritime & Pioneer history of Digby/Digby...
(Museum)