Canso Travel Guide
The Town of Canso is a small coastal community located on the eastern tip of Mainland Nova Scotia. The historic fishing village is located in Guysborough County. The Town is 115km east of Antigonish and 110km southeast of Port Hawkesbury.
Canso is home to the Canso Islands National Historic Park. Canso Islands tells the story of the fortification of Grassy Island. Visitors can tour the interpretation centre and then take a boat ride over to Grassy Island.
Visitors to Canso should not miss exploring Whitman House Museum, a three story historical home, filled with relics from Canso's past. The Museum features period furniture, art, photos and other treasurers.
The community also offers many eco-tourism related experiences. A stop in the nearby village of Dover is a must, to experience swimming and walking at Black Duck Cove Day Use Park. Black Duck offers a sandy beach with stunning views of rock formations shaped by the power of the Atlantic. The Chapel Gully Hiking Trail located in Canso also offers nature and bird lovers a unique adventure.
The Canso Regatta is an annual event held every August. Activities during Regatta include boat races, dances, parades, concerts and traditional hootenannies. The International Stan Rogers Folk Festival brings over ten thousand people to Canso each year. Held during the first weekend in July, this ECMA award-winning event is three days of quality entertainment for the entire family.
Whitman House Museum , Canso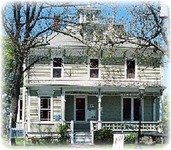 The society's mission is to preserve, develop and identify the historic tradition and culture of the people of the...
(Museum)