Bridgetown Travel Guide
Thought by many to be the "Prettiest Little Town in Nova Scotia", Bridgetown is nestled in the beautiful Annapolis Valley. The town celebrated its 100th year of incorporation in 1997, and its rich history is still evident in the proud Victorian homes which line the streets.
Bridgetown (pop. 972) is located along the Annapolis River in Nova Scotia's Annapolis County. Once an important shipbuilding centre, today the downtown district is alive with shops. Queen Street is considered a perfect example of a small town business district - the sidewalks are wide, the shops are close together, and people stop to greet each other on every corner.
The Bridgetown area has outstanding recreational facilities, including an arena, a swimming pool, a curling club, a lawn bowling club, tennis courts, soccer and ball fields, a riverfront park, an 18-hole golf course and a provincial park. Each summer Bridgetown plays host to a triathlon, which draws competitors from throughout Atlantic Canada.
The James House Museum , Bridgetown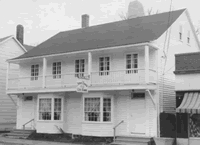 This popular exhibit profiles how horses made our history, locally and internationally.
(Museum)