Berwick Travel Guide
The small Canadian town of Berwick, Nova Scotia is located in the eastern part of the Annapolis Valley on the Cornwallis River in Kings County.
Since apples were a major economic force in developing the town, the official slogan is the "Apple Capital of Nova Scotia". Since the 1950s, area farmers have since diversified to other crops and livestock, although a large apple sculpture is found in the centre of town to commemorate the importance of this historic industry. Despite the decline of the apple industry, there are still many apple orchards to be found in the surrounding communities.
Berwick built its own hydro electric power dam in the 1920s which is still owned and operated by the town. Berwick operates a small library, a museum ("The Apple Capital Museum") and a seasonal tourism bureau. Since the 1860s, Berwick has been home to a summer religious retreat operated by the United Church of Canada known as Camp Berwick, located in a picturesque grove of old growth pines and hemlock trees at the south end of the town.
Apple Capital Museum Society, Berwick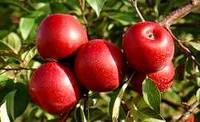 Berwick and District grew as the apple industry grew; so to did its people and their accomplishments. The Museum will...
(Museum)