Fort Smith Travel Guide
The Canadian town of Fort Smith is located in the south-eastern portion of the Northwest Territories, on the Slave River and adjacent to the NWT/Alberta border. The town is approximately 300 km southeast of Yellowknife, the territorial capital.
The population of approximately 2,350 - the majority of which are First Nations - speak Chipewyan, Cree, Michif or English a their main language. Fort Smith was the former administrative capital of the NWT prior to Yellowknife becoming the capital in 1967 and remains largely a government town.
Tourists come to see the Slave River and many kayakers try its rapids. Other attractions close by include the Wood Buffalo National Park, whose park headquarters is located in Fort Smith.
Fort Smith is the home of the Northern Life Museum and the museum ship Radium King. Every year in August, the town holds the South Slave Friendship Festival, a music and arts festival. Musicians and artists from across the Northwest Territories and many other places come to interact with other artists and show off their talents to the public.
Fort Smith used to be a major transportation site. Goods were brought up to the nearby community of Fort Fitzgerald, Alberta and portaged on land to avoid four sets of impassable rapids. Once the goods were placed back into the water of the Slave River in Fort Smith, they travelled north, along lakes and other rivers (such as the Mackenzie River) to destinations as far away as the Arctic Coast.
Northern Life Museum and National Exhibition Centre, Fort Smith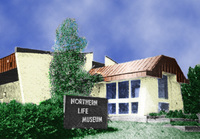 On display in the museum is a collection of artifacts representing the people and history of the North.
(Museum)