Trout River Travel Guide
In the words of one visitor, the road to Trout River "is one of the most scenic drives you will ever find."
This sentiment, and others like it, are shared by many who have visited Gros Morne National Park, Bonne Bay, the Tablelands and the towns of Newfoundland's Gulf of St. Lawrence coastline. Just off route 431 to Trout River, the Green Gardens trail takes hikers through serpentine barrens, boreal forest, along cliff-top meadows and descends to a volcanic coastline remarkable for its small coves, beaches, sea stacks and sea views. For great views of the Tablelands, which are unique in the world for the study of plate tectonics, and mountains of Gros Morne National Park, a boat tour on Trout Pond (actually a very substantial and scenic lake) is not to be missed.
The village is small and picturesque with a reputation for friendly and outgoing residents who might invite you into their home for a conversation and cup of tea. The cold, rich waters of the Gulf are perfect for nurturing some of the best seafood in the world. Like many small towns on this coast, Trout River's existence is tied to the lobster and snow crab fishery. The boating and dockside activity is an attraction in itself.
The Sheppard's B and B, Doris Sheppard, Trout River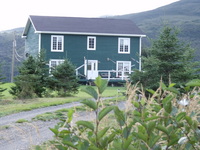 Hospitality at it's Finest in a beautiful quiet setting.
(Accommodations, Bed and Breakfast)