Old Perlican Travel Guide
Old Perlican is a fishing village on the Avalon Peninsula, Newfoundland and Labrador in Canada, and one of the oldest fishing communities in Newfoundland. It used to serve as the major fishing station in Trinity Bay for migratory fisherman from England in the 1600s.
Local attractions include Old Perlican Island off the coast from the community of Old Perlican. It is the nesting ground of many Atlantic sea birds such as the Leach's Storm-Petrel and Black-legged Kittiwake. The island and surrounding bathymetry is a navigation barrier to ships with a draft over 2 fathoms entering the port of Old Perlican. Residents of Old Perlican use the island as a grazing ground for sheep in the spring and summer seasons.
Beckett Heritage Home, Old Perlican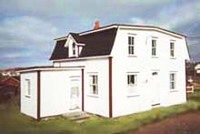 The town has many sites of interest including a large, developed harbour, historic churches, the Beckett Heritage Home and twine...
(Museum)