North West River Travel Guide
Although the Canadian town of North West River has remained small in size over the last 250 years, it remains a lively place full of history. The town in the Province of Newfoundland and Labrador offers scenic walking trails along the water front, through the forest or to the top of Sunday Hill, where hikers can see a panoramic view of Lake Melville, the Mealey Mountains, Grand Lake and Little Lake.
The river used to be only passable by boat. Today, a modern bridge connects North West River with the rest of the continent by a modern bridge, which was constructed in 1980.
Every year in July, the North West River Beach Festival is held for two day s. This event is Labrador's largest music festival and locals, travelers and ex-pats gather at the festival to socialize and watch local performers play traditional Labrador music. There are also crafts, foods and games. In 2007, the Beach Festival was moved to the North West River Waterfront instead of its traditional location on the beach.
Labrador Heritage Museum, North West River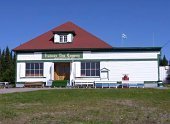 Located adjacent to the North West River bridge on the river, the Museum is the original Hudson's Bay Company fur...
(Museum)
Labrador Interpretation Centre, North West River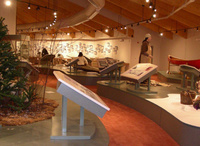 At the Labrador Interpretation Centre you'll discover the founding peoples of Labrador – Innu, Inuit, Metis and Settlers.
(Museum)