Lower Island Cove Travel Guide
Lower Island Cove was once a thriving economic centre. Located on the northern entrance to Conception Bay, it once boasted three cod liver factories. However, since the cod moratorium, the fishing community has seen a decrease in residents. Three local attractions are the Flambro Head Museum and Cafe, the Lower Island Cove Regatta and the Old Methodist Church Cemetery. The incorporated town is located on the Bay de Verde Peninsula on the north shore of Conception Bay, Newfoundland and Labrador, Canada.
Flambro Head Museum & Café, Lower Island Cove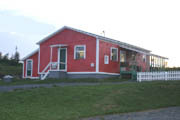 The museum has displays, artifacts, photos, tools and implements depicting the early lifestyles of the area.
(Museum)