L'Anse aux Meadows Travel Guide
More than 500 years before the traditional date of European contact with the New World, an adventurous team of Norse settlers led by 'Leif the Lucky' established a settlement on the Northwest shores of Newfoundland, in a land he called Vinland, Old Norse for \"land of grapes\". The discovery of the 1000 year-old timber and sod buildings by Helge Ingstad and Anne Stine Ingstad in 1960 confirmed the truth of Viking sagas recorded in medieval Icelandic manuscripts, and revolutionized our ideas of early trans-Atlantic crossing. Known as L\'Anse aux Meadows, the 8 Norse buildings are the earliest known European structures on the North American continent. The village housed men and women, had livestock, and was the site of the earliest contact between European and American native peoples. Amongst the buildings, archeologists discovered a wealth of artifacts, including works in wood, iron, stone, bronze and bone.
Today it is UNESCO World Heritage Site and Canadian National Historic site. There are guided tours in the summer and a visitor centre containing educational displays and artifacts.
In addition to the heritage site, visitors will enjoy walking the coastal paths, and viewing the natural history of the area, which includes barrens, coastal bogs, stunted forests and over 280 species of plants. The cold waters of the Labrador Current frequently bring icebergs within easy viewing from shore, especially in June and July. Pistolet Bay Provincial Park is nearby.
L\'Anse aux Meadows is situated near the town of St. Anthony on the Great Northern Peninsula.
L'Anse aux Meadows National Historic Site of Canada, L'Anse aux Meadows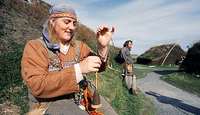 The reconstructions of three Norse buildings are the focal point of this archaeological site, the earliest known European settlement in...
(Tourist Attractions)