L'Anse Amour Travel Guide
Site of the oldest known burial mound in the New World, the 7500 year-old grave is that of an adolescent boy from the prehistoric Maritime Archaic people. The boy was wrapped in leather or bark and buried face down in what was probably a complex ceremony. L\'Anse Amour is now a National Historic site.
The original name of L\'Anse Amour was Pointe aux Morts, or Deadman\'s Point, because of the cost in lives. The Strait of Belle Isle, which provided a short cut for ships traveling from Great Britain to Montreal, is particularly treacherous due to its narrowness and presence of icebergs and is the site of numerous shipwrecks. The tallest lighthouse in Atlantic Canada, a Provincial Historic Site, is nearby at Point Amour. The residential portion of the lighthouse has been converted to a museum. Although the population is tiny (8 permanent residents) the Bakeapple Folk Festival, one of the longest running festivals in the province, is an annual delight. The attractions of L\'Anse Amour resulted in it being nominated to be one of the Seven Wonders of Canada.
L'Anse Amour Burial National Historic Site, L'Anse Amour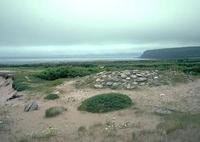 About 7,500 years ago a Maritime Archaic adolescent died and was buried with reverence and ceremony near the present-day community of...
(Tourist Attractions)