Harbour Grace Travel Guide
Located on the Avalon Penninsula portion of Newfoundland, the scenic town of Harbour Grace has a deep and rich history spanning almost 500 years. From the pirating fights of Peter Easton and the pioneering flights of Amelia Earhart to historical sites and buildings, Harbour Grace has long been the centre of excitement, adventure and beauty. Located on Route 70, it is 100 kilometers from St. John's and 33 kilometers from the Trans Canada Highway. Harbour Grace is situated on one of the largest harbours on the Avalon Peninsula and can be reached via Roaches Line (Route 71) and the Conception Bay Highway (Route 70).
Harbour Grace has a number of sites, which are of interest to tourists, such as the Admiral's Marina, the Coughlan Memorial, the Conception Bay Museum and the Courthouse, Hampshire Cottage and the Heritage District.
Conception Bay Museum, Harbour Grace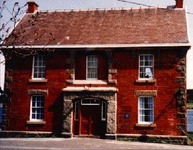 The museum is located in the former 1870 customs building.
(Museum)