Hant's Harbour Travel Guide
Hant's Harbour is a small fishing village built around a small harbour, which opens on the north to Trinity Bay. The harbour waters can accommodate vessels up to 100 tons. The rocky and barren landscape is dominated by low hills. The community of about 400 people is located on the east side of Trinity Bay on the Bay de Verde Peninsula in Newfoundland.
Until the nineteenth century, Hant's Harbour's economy was based mainly on the fisheries. It wasn't until the second half of the century, that the inshore cod fishery and the Labrador fishery became important.
Visitors should be prepared for summers cooled by low clouds and fogs near the coast, and considerably brighter and warmer temperatures inland.
The Willow Tree Museum, Hant's Harbour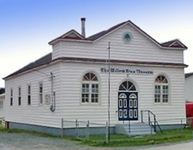 A museum, which was officially opened in 2002, is a source of pride to the residents.
(Museum)