Dildo Travel Guide
Dildo is a town on the southeastern Dildo Arm of Trinity Bay on the island of Newfoundland in the province of Newfoundland and Labrador, Canada. It is about 100 kilometres west-northwest of St. John's. Some residents have tried to change the name several times but to no avail. Dildo is the traditional name for the two round pegs in a dory (a small traditional rowboat), which brace the oars during rowing. In other dialects of English these would be called rowlocks.
In 2001, Dildo won the Harrowsmith Magazine Award as one of the ten prettiest small towns in Canada. Dildo has a fast-growing tourist industry, offering visitors picturesque scenery, several bed and breakfasts, eating establishments, the Dildo Museum interpretive centre, the Historic Dildo Days celebration in August, boat tours, the Society of United Fishermen, the Lions centre, several heritage structures, walking trails, many businesses and, of course, the road sign souvenirs.
Dildo Area Interpretation Centre, Dildo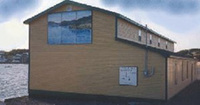 Dildo Area Interpretation Centre Exhibits depicting the prehistory and history of the area for over 4000 years.
(Museum)