Daniel's Harbour Travel Guide
Daniel\'s Harbour is a community on the west coast of Newfoundland, in the province of Newfoundland and Labrador. It is located approximately one hour from Gros Morne National Park and three hours from L'Anse aux Meadows National Historic Site — two popular tourism destinations.
In 2008, Daniel's Harbour formulated a plan designed to foster community development. There were 13 tourism-related projects identified, including a whale-watching waterfront walking trail, painting of heritage fishing sheds and structures, restoration of a 150-year-old cemetery, newer cemeteries where Nurse Myra Bennett and Rufus Guinchard are buried, an addition of a replica barn to the Nurse Bennett Heritage House, an information kiosk and picnic area, a murals project and a boat launch at Winterhouse Pond to accommodate float planes.
In Spring of 2007, the community of about 300 had been reeling as slides chewed away at the cliff that lines much of Daniel\'s Harbour. A year before, a landslide had swept away tonnes of soil, forcing the evacuation of four houses and one business. Scientists had noted that the cliff — based not in the bedrock commonly seen across Newfoundland but in clay — was heavy at the top, and eroded at the bottom.
In 1920s, Daniel\'s Harbour was an isolated community without roads or railway connecting the community to the outside world. There was a coastal steamer, but it operated only in good weather. The nearest hospital was the Grenfell Mission, established in St. Anthony, several hundred miles to the north.
Nurse Bennett Heritage House, Daniel's Harbour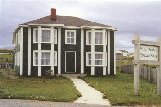 Built in 1922, this traditional 2 story house was home to Nurse Myra Bennett for 68 years. The Bennett House pays tribute to...
(Museum)