Carmanville Travel Guide
One of Carmanville's greatest assets is its beautiful natural surroundings, including a wetlands walking trail and breathtaking ocean scenery. There are many recreational opportunites, such as quiet, picturesque areas, offering breathtaking views of the Atlantic ocean, rugged walking trails, and perfect spots for a picnic.
Carmanville is located along the beautiful Kittiwake Coast, Newfoundland, on route 330 and is approximately 45 minutes from Gander. The small fishing settlement on the northeastern coast of Newfoundland, was first settled around 1825 by the Day family who trapped otter and fox and became friends with a family of Aboriginals living there. Logging, lobster, cod, and the Labrador fishery were all important to Carmanville's economy.
Other visitor's attractions include the Ahern Trader, a ship 200 feet in length which went ashore in 1960. The Ahern Trader has since become a landmark in the region, although it has deteriorated quite a bit over the years. Many visitors come to the annual summer festival in Carmanville, called "Aunt Martha's Sheep Festival". The event is usually held around the middle of July, lasting three days with lots of entertainment, food and fun.
Auntie M's Bed & Breakfast Inc, Myra Parsons, Carmanville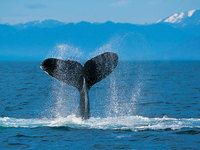 Fall asleep listening to the waves lap against the shoreline at Auntie M's B&B
(Accommodations, Bed and Breakfast)