Burin Travel Guide
Up until the early 1990s the local economy of the small town of Burin in the Province of Newfoundland and Labrador, was largely still dependent on the fishing industry. In the absence of the fishing industry, the tourism sector has grown and the town of about 2500 people on the Burin Peninsula in Placentia Bay has become interesting for visitors.
Museums such as the Heritage House and Old Colony Trust remind the visitor of what life was like in early Burin. Every August, the Burin Heritage Days take place at the Heritage Museum site, with many locals dressing in period clothing, a plethora of local musicians and dancers who entertain, and a fireworks show to the end the event. Many Bed and Breakfasts (B&B's) that are located throughout the community of Burin.
The Burin Peninsula is often affectionately nick-named "The Boot" due to its resemblance to the footwear when seen on a map. The town of Burin is located near the "heel" and about 318 km from the capital of St. John's. Settlement in Burin dates to the early 18th century, although documentary evidence indicates that French fishermen had been fishing and exploring the area even earlier.
Burin Heritage House, Burin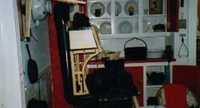 The Burin Heritage Association consist of a Heritage House, also known as the Reddy House, and a museum in the...
(Museum)