Bay de Verde Travel Guide
Bay de Verde is an incorporated town in Newfoundland and Labrador, Canada. In 1662, the first recorded inhabitants arrived at Bay de Verde. Today, the town of 470 is a prominent fishing community located on the northern tip of the Bay de Verde Peninsula of Conception Bay near Baccalieu Island.
The central part of this picturesque fishing village is nestled between two hills while both sides of the low lying area gently slope towards the ocean. On the southwestern side is the harbour, called the foreside, where fishing boats are moored in the central section away from the land and wharfs. The other side, called the backside, was once used for fishing stages. However, due to its more treacherous rocks and steep slopes and its exposure to the raging sea and winds of the North Atlantic, backside has long been abandoned.
Bay de Verde and surrounding areas are barren of any trees except for a small grove of rugged spruce trees called the minister's grove. On the western side of the harbour just below an area called Spring Hill, is the section of Torquay. Split Point, a prolific fishing berth in the community, is the boundary line between Conception Bay and Cape St. Francis.
Bay de Verde is accessible by Route 70 of the provincial road system. The road down to the heart of the town is very steep and can be very dangerous in the winter during snow storms.
Bay de Verde Heritage House, Bay de Verde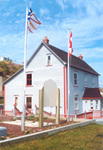 The Bay de Verde Heritage House is a merchant-class Victorian house built in 1896.
(Museum)