Arnold's Cove Travel Guide
Arnold's Cove is a Canadian town of approximately 1000 people, located on Newfoundland's Avalon Peninsula in the province of Newfoundland and Labrador. The town started out with one family in 1864. It wasn't until 1893, that there was a post office. The original fishing settlement was located approximately two km from the Newfoundland Railway, located 35 miles from Placentia Junction. Arnold's Dove has been a center of economic growth recently, due to its proximity to projects involved with the Hibernia offshore oil platform.
The community is close to Placentia Bay, a body of water on the southeast coast of Newfoundland. The Bay is formed by Burin Peninsula on the west and Avalon Peninsula on the east. Fishing grounds in the bay were used by native people long before the first European fishermen arrived in the 1500s. For a time, the French controlled the bay.
The Drake Heritage House, Arnold's Cove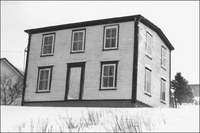 The Drake Heritage House sits in arnold's cove and has been kept in its origional condition.
(Museum)