Nackawic Travel Guide
The town of Nackawic is located 65 km west of the city of Fredericton on the east bank of the Saint John River in New Brunswick, Canada. Nackawic is nestled along the scenic Saint John River Valley. Designated as the Forestry Capital of Canada in 1991, the town is surrounded by beautiful green space and wildlife. Sitting on the banks of the Saint John River, the World's Largest Axe is supposed to remind locals and visitors of the importance of the forest industry to the town and the Province of New Brunswick.
Whether its the breathtaking scenery and many recreational activities, Nackawic offers something for everyone.
The town's largest employer was St. Anne Nackawic Pulp Company Ltd from 1970 until 2004, when the mill closed on September 14 and its owners declared bankruptcy the following day, putting 406 people out of work. About 350 contract workers in the middle of a maintenance shutdown were also affected. The mill itself was left in a state of disassembly. Today, the AV Nackawic mill is operating splendidly again.
World's Largest Axe , Nackawic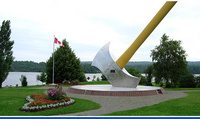 The World's Largest Axe is a reminder of Nackawic's strong forestry industry.
(Tourist Attractions)