Star Lake Fishing Resort
(Accommodations, Adventures/Outdoors/Sports, Biking/Mountain Biking, Bird watching, Cabin/ Log cabin, Canoeing/Kayaking, Fishing, Horseback riding, Resort)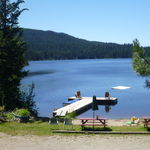 Experience the wilderness at Star Lake Resort. We offer 5 bright clean housekeeping cabins & 10 campsites with a lake full of Rainbow Trout - all just 15 minutes from town!
(Accommodations, Adventures/Outdoors/Sports, Biking/Mountain Biking, Bird watching, Cabin/ Log cabin, Canoeing/Kayaking, Fishing, Horseback riding, Resort)
Star Lake Fishing Resort is nestled on the edge of the Nehalliston Plateau above the scenic North Thompson Valley and the friendly little town of Clearwater, British Columbia. The resort is ideal for fishing enthusiasts, family vacations, or quiet retreats. The majestic mountains of the world famous Wells Gray Park serve as a picturesque backdrop.