Redcliff Travel Guide
Redcliff is a town enclaved within Cypress County, southern Alberta, Canada, immediately northwest of Medicine Hat (the largest city enclaved within the county). The town has a rich history which began in the 1880s with the discovery of abundant coal and natural gas reserves.
Redcliff stands on the banks of the South Saskatchewan River and is bisected by Highway 1 (the Trans-Canada Highway). Relative to the surrounding landscape the Town is sited at a high elevation. Stunning views of the South Saskatchewan River valley, the City of Medicine Hat, and the Cypress Hills are available in many parts of the Town. The high cliffs that the Town is sited on resemble badland landforms with significant erosion.
Recreation opportunities include the Aquatic Centre, the 18-hole Riverview Golf course and the "Rectangle" which accommodates ice hockey.
Redcliff Historical & Museum Society, Redcliff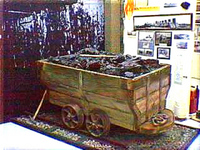 The history of Redcliff and area.
(Museum)