Ponoka Travel Guide
The Canadian town of Ponoka is situated in the south/central parkland region of rolling hills in the province of Alberta. Industries are agriculture (grain and cattle production), and oil and gas production. Ponoka is located at the junction of Highway 2A and Highway 53, 59 km north of the city of Red Deer and 95 km south of Edmonton.
Ponoka boasts the beautiful Wolf Creek Trail, which starts at its southern end near the Ponoka Community Golf Course and travels northwards, randomly ending in the middle of a field. The trail follows the Battle River for several kilometers. Along the trail are several descriptions of various local wild animals and historical tidbits, as well as several baseball diamonds, benches, and picnic tables.
The town holds the Ponoka Stampede, a seven day rodeo at the end of June beginning of July, usually ending after or on the Canada Day weekend. During this period of time, the town is packed with holiday trailers and people wanting to watch the rodeo.
The Fort Ostell Museum , Ponoka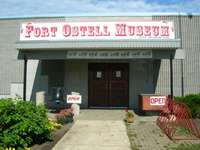 The Fort Ostell Museum has displays of pioneer, native artifacts and photos.
(Museum)