Peace River Travel Guide
The Canadian town of Peace River in west northern Alberta is located on the Peace River, at its confluence with the Smoky River and Heart River. It is located 486 km northwest of Edmonton, Alberta, and 198 km northeast of Grande Prairie, Alberta, along Highway 2.
The original part of the town lies on a flood plain at the confluence of Peace River and Smoky River, while it has also expanded to areas on higher ground, mostly to the west of the town. The Greene Valley Provincial Park lies just east of the town.
Local area outlooks such as Kaufman Hill, Sagitawa Lookout and the Twelve Foot Davis Gravesite all offer a spectacular view of the Peace River Valley.
Missionaries were the first settlers to the area, sent to introduce the native people to Christianity. They began to promote agriculture and required river transportation for supplies. Unwittingly, they proved the value of agriculture in the Peace; a region soon defined for both agriculture and river transport.
The Peace River Museum, Archives and Mackenzie Centre, Peace River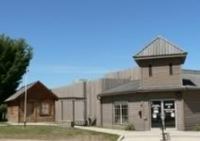 The Peace River Museum has three galleries: The Peace River Gallery, the Alexander Mackenzie & Fur Trade Room and the Main...
(Museum)