Lac La Biche Travel Guide
Lac La Biche County is an area blessed with natural beauty in the form of an abundance of lakes, old growth forests, wildlife and excellent outdoor recreational opportunities. Lac La Biche County is a recently incorporated rural and urban municipality situated approximately 100 miles Northeast of Alberta's Capital, Edmonton in Canada. On August 1, 2007, Lac La Biche County was formed when the former Town of Lac La Biche and former Lakeland County were amalgamated.
It is a community steeped in cultural diversity and history with European settlement dating back over 200 years to the fur trade. Main industries include Oil and Gas, forestry, tourism and agriculture. Further, the Hamlet of Lac La Biche serves as a business hub to the area and it is a growing and thriving community.
Portage College Museum of Aboriginal Art and Artifacts , Lac La Biche
Plamondon Museum , Lac La Biche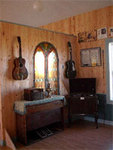 Artifacts from Pere Joe Plamondon, other early pioneer families and many instruments.
(Museum)